Directed by Kay Dunning & Sheri Brunner
A delightful, musical adaptation of the popular English folk tale, Jack and the Giant. Includes storyline based on the Book by Vera Morris. Music & lyrics by Bill Francoeur.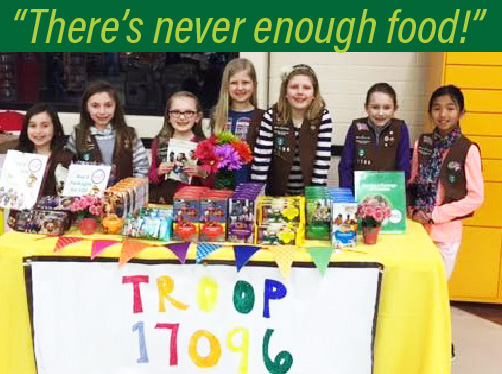 Won't you join us?
As part of our commitment to community service, we're donating a portion of our proceeds to the CAP Agency of Scott, Carver & Dakota Counties. Bring non-perishable food items with you to the show! Volunteers from Girl Scout Troop 17096 will be in the lobby Sunday to collect items from all three shows!

The CAP Agency is a local non-profit that assists and empowers people to achieve social and economic well-being in partnership with our community.  CAP does this through 24 different programs ranging from a food shelf and Meals on Wheels to Head Start and housing services.  Through partnerships with community members, businesses, and organizations like Prior Lake Players, CAP Agency works to serve those in need in our shared community – and to make sure there is enough food for all!  For more information on CAP Agency and all its programs, to find out about volunteer opportunities, or to make an online donation, check out capagency.org/donate.
"Fee, Fi, Fo, Fum! 2017"
(in order of appearance)
JACK………………………………………………………… Blake A. Swanson
SUSAN………………………………………………………Anais Stentz
JACK'S MOTHER………………………………………. Christa Erickson
VILLAGER 1……………………………………………….Cassie Downard
VILLAGER 2……………………………………………….Karl Brown
VILLAGER 3……………………………………………….Audrey Klein
VILLAGER 4……………………………………………….Joey Atkinson
VILLAGER 5……………………………………………….Stephanie Smith
VILLAGER 6……………………………………………….Lisa Atkinson
TROLL……………………………………………………….Jack Speltz
BABY TROLLS……………………………………………Gwen Erickson, Haddie MacGillivray, Eve Wylde
CHICKEN………………………………………………….. Austin Runchey
HIGH SHERIFF DUMDUM………………………….. Tim Gogolin
DEPUTY DUMDUM……………………………………. David Erickson
PRINCESS TULIP……………………………………….Maria Atkinson
MISS PRISS……………………………………………….Andrew Daniels, Zach Schabert
BEAN-SELLER………………………………………….. Lucky Nguyen
BEAN-SELLER'S APPRENTICE………………….. Nico Rivera
VILLAGE FIDDLER……………………………………..Calvin Meacham
HOUSEKEEPER…………………………………………Lisa Johnson
COOK………………………………………………………..Bette Block
KITCHEN GIRL 1……………………………………….. Audrey Klein
KITCHEN GIRL 2……………………………………….. Ella Carlson
KITCHEN HELPERS……………………………………Bria Fowble, Grace Galbus, Abby Gogolin, Sophia Hauser, Sabrina Jaspers, Chloe Johanson, Kristina Kelly, Abby Leach, Ellie Runchey, Kylie Schroeder, Stephanie Smith, Greta Tompkins, Kaia Wozney
GIANT………………………………………………………. Jon Stentz
GOOD QUEEN VIOLET……………………………….Rose Narveson
VILLAGERS / CHORUS……………………………….Anna Clausen, Jacob Downard, Lilyann Downard, Ryan Erickson, Sydney Erickson, Jackson Erwin-Sweeney, Sam Erwin-Sweeney, Abigail Fouberg, Bria Fowble, Grace Galbus, Ethan Glynn, Abby Gogolin, Sophia Hauser, Ethan Heide, Sabrina Jaspers, Chloe Johanson, Kristina Kelly, Bella Klein, Ben Klein, Abby Leach, Emma LeClair, Calvin Meacham, Samantha Pappenfus, Ellie Runchey, Riley Runchey, Kylie Schroeder, Greta Tompkins, Kaia Wozney
Cast List Fee,Fi,Fo,Fum